Untitled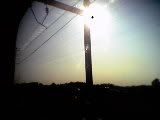 Today has been a crazy hectic day, so unfortunately I don't have time to search for some good mp3's. Fortunately,
Music (for Robots)
posted some amazing Aphex Twin tracks yesterday, Xtal and his remix of Saint Etienne's "Your Head My Voice." If you don't know these tracks already, you really need to download them.
No post tomorrow. My company is doing a shoot in Atlantic City at the Taj Mahal (which is what I was busy preparing for today). It's a two day shoot, which means the hotel room's all paid for. Sometimes being an intern isn't all that bad. But I'm planning some (nonviolent) activity for the Republican National Convention, so I'll have more about that later in the week (as well as more music).