Euphemisms/Boom Bip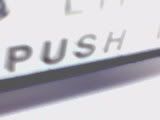 So my backup plan for my job hunt was to try to get something fulltime out of my internship. I was told a few weeks ago that they might have something for me in administration. I really want to work more in production, but a job's a job after all and I do like the company, so it seemed like a really good backup to have. Today I asked what the status of that was and if there was still a job that might be available to me in September. I asked the woman in charge of operations, the same woman who told me that there was a possibility a couple of weeks ago. Her response (and here I have done a public service to my readers and translated about half a page of corporate euphemisms into a more readable, concise statement written in modern day English) was "No." But I half expected that this might happen, so I'm not bitter about it. To be honest, I still actually like the company for the most part, which is why it's kind of disappointing that it's not going to last a little longer.
Oh, an update on the whole Republican National Convention mess and getting to the company. We are currently making photo ID cards for everyone there, so they can get pass the police barricades. In 15 years, the company has never needed photo ID cards. We're making them just for that week.
When
Warp
started up
Lex Records
, one of their first releases was from Ohio based artist,
Boom Bip
. He had previously recorded on
Mush Records
and frequently collaborates with Dose One from cLOUDDEAD. His new release, the
Corymb EP
is out now and features a new remix by the ambient geniuses of
Boards of Canada
. I'm convinced that everything they've remixed is brilliant (ok, so the Meat Beat Manifesto remix wasn't there best, but give it a chance, it's not bad either).
Boom Bip - Last Walk Around Mirror Lake (Boards of Canada Remix)
(source)