Freelance subversion/Alias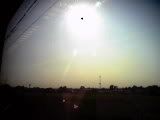 A bug was in my apartment. Well, it still is, but it's dead now. It fell from the ceiling and landed right inside my printer. I witnessed this, it looked exactly like the scene from the beginning of Brazil (which if you haven't seen, you really should). I'm not really sure what to do about it. I tried to shake it out, but it's really in there. I'm not sure what would happen if I tried to print something. I've decided not to worry about it at the moment. So chances are I'm probably doing to forget about it until one day, I go to print something and discover a large squished bug splattered across my new resume. I'll be sure to blog about it. But on to the music...
Somewhere in between hip hop, glitch and indietronica lies
Alias
. These tracks come from his releases on
Anticon
, the label that cLOUDDEAD uses to release their solo records. Unseen Sights, my favorite of these tracks, features Markus Acher of
Notwist
.
Alias - Unseen Sights
Alias - Eyes Closed
Alias - Pill Hiding
(source)