Mouse on Mars & Bjork Reviews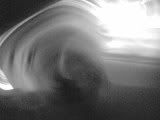 The two CDs take look like they're not going to be leaving my stereo anytime soon:
Mouse on Mars'
Radical Connector and
Bjork's
Medulla. First Mouse on Mars. I think this album is their best one to date. It's solid, not one bad track. It's also their first album without any instrumentals, with vocals from Dodo Nkishi and Niobe. So far, everyone's been talking about the opening track, Mine Is In Yours (previously called Mine Disappears), but if I had more web space to use for mp3's, I'd post Send Me Shivers. It's not their most complex track, but Niobe's vocals are perfect.
And speaking of vocals, then there's Bjork's new one, Medulla. The truth is, it's not as reported, an entirely vocal album, although it's pretty close. But there are a few instruments on their. There's a piano on a couple of tracks and with some of the electronic sounds, it's hard to tell whether the source material was a human voice or synthesizer. That said, I do like the album a lot. The influence of Bjork's collaborators is always obvious. Fortunately, she picks really good people to work with. In this case, they include Matmos, Mark Bell, Dokaka, Razhel and Olivier Alary from Ensemble. There's a pretty wide range on this album, from more electronic sounding tracks that could all be potential singles, to the more serious acapellas, many of which are sung in Icelandic (I think it's the first time in her solo career that she's put any Icelandic songs on a full album). A lot of people don't know how to feel about it after the first listen. I say, give it a chance. I don't know if I can call Medulla her best album, but it's very honest and Bjork did an incredible job with it overall. If nothing else, it's at least an interesting angle for an album. My only complaint is that she apparently doesn't want people to have an easy time reading her lyrics, what with that black on black style she's got with this one, but in a weird sort of way, I think her hair actually makes up for it. Standout tracks are Mouth's Cradle, Ancestors, Desired Constellation, Vokuro, and Oceania. I think the album deserves a listen, so this week my
betterPropaganda
pick is a streaming file (no download, sorry) of Oceania, which Bjork played at the opening ceremony of the Olympics in Athens.
click to go to stream: Bjork - Oceania